What is Thermal comfort and Passive design technique?
First of all let us understand what is the meaning of the term "Thermal Comfort"- Thermal is a word which is related to heat and comfort– A state of physical ease and freedom. So achieving thermal comfort is a state of mind where a user of the space feels comfortable and healthy. Second question arises here that, what are passive techniques? So, passive design is the technique which utilizes the natural sources for heating and cooling such as the sun and cool winds. It is basically a technique which takes an advantage of the climate in order to maintain the comfort inside the building. Passive design techniques helps in cutting down the use of active design techniques which leads to saving good amount of money. So, read full blog to know how to achieve thermal comfort using passive design techniques.

Achieving Thermal comfort:
Achieving thermal comfort inside the building is a necessity and by using passive design techniques is just like cherry on the cake. It is the designer's job to design a building sustainable and energy efficient and it is possible through using the Passive design techniques. These techniques are scientific but not complicated. They are simple and easy to understand, but in this blog we will discuss them one by one so it is easy for you to understand even as a layman. So, following are the passive design techniques which can be incorporated in order to achieve thermal comfort, low energy bills and low emission of greenhouse gases:
Design as per Climate
Orientation of the building
Sustainable building design
Natural Ventilation
Natural lighting
Shading
Materials
Landscaping
Water body
Use of Renewable sources of energy
So, these are few passive design techniques which can be incorporated in the building during designing in order to achieve the thermal comfort inside the building. We will discuss them one by one for better understanding.
1. Design as per climate:
India as a country has different climatic zones, such as cold climate in northern part, hot and dry in western areas then hot and humid in southern part of the country. So, the designing has to be different as per the different climatic zones to achieve thermal comfort inside the building. This is one of the first thing that designer should keep in mind before starting designing any project. Design parameters for different climatic zones are also different.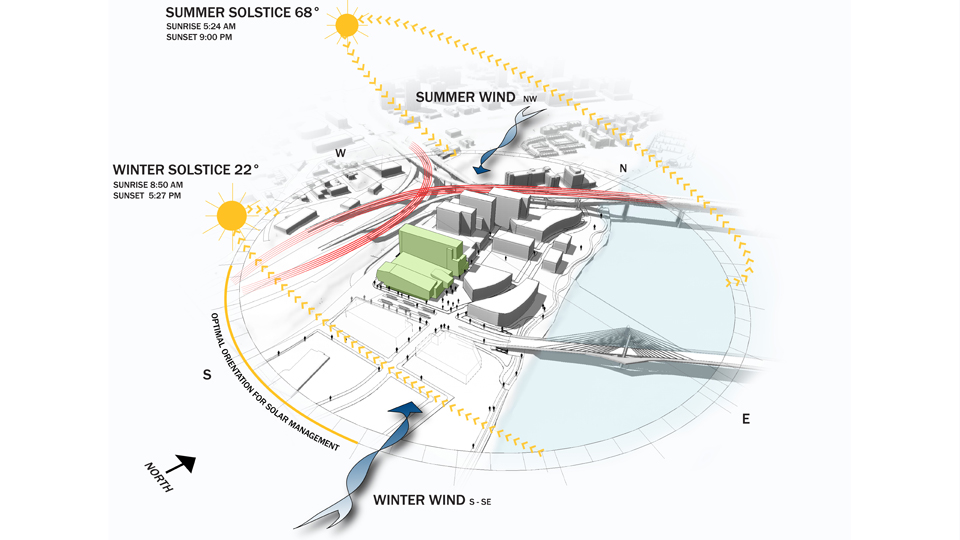 2. Orientation of the building:
Orientation of the building plays a major role  in providing building with passive thermal comfort. The placement depends upon the four directions: East, West, North and South. The building can be oriented in such a way to take advantage of solar gain to reduce heat load or to protect unwanted solar gain to maintain comfort inside the building. 
The orientation of the building can vary as per the climate. For example the orientation of building for hot climate should be such that it reduce the solar gain and for cold climate the orientation has to be such that it should protect the unwanted solar gain inside the building. It is ideal for long facade buildings to face north and south so that it can take advantage of indirect light without glare from north and controlled direct solar heat gain from south by providing shadings.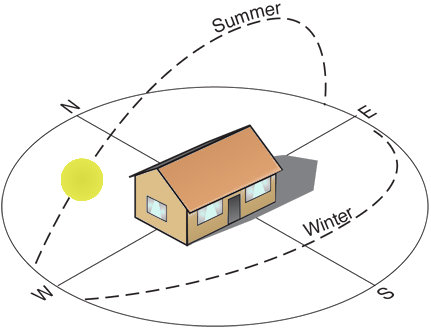 3. Sustainable building design:
As a responsible designer it is important to think for sustainable building designs which contribute towards thermal comfort. There are several techniques that can be incorporated such as for  hot climate courtyard planning, skylights, louvers, cooling towers and for cold climate solarium, insulation, light shelves etc. By incorporating these passive techniques the use of active techniques becomes lesser.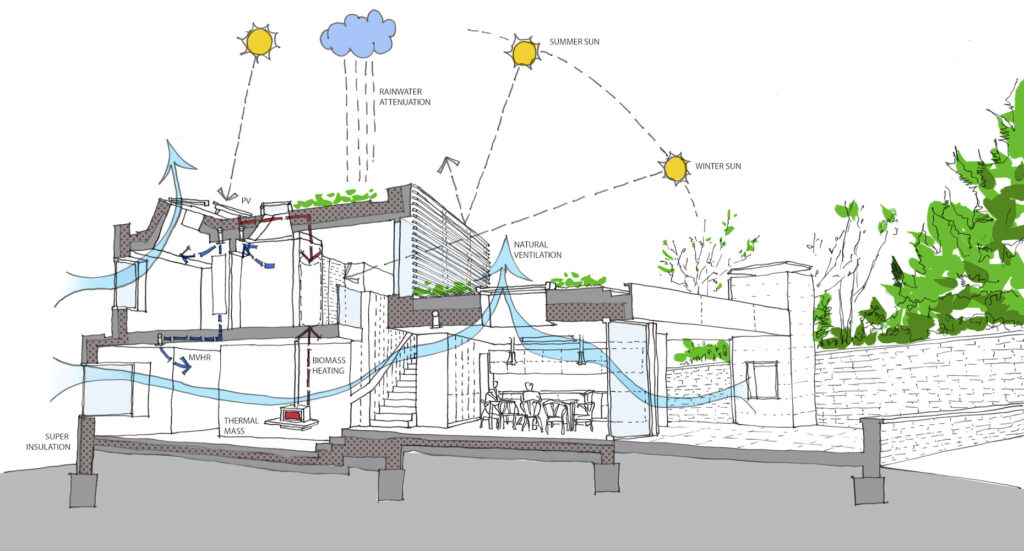 4. Natural Ventilation: 
The natural ventilation is the technique which utilizes air as a medium to make a building energy efficient. When using natural ventilation as a passive design strategy, it is important to consider how air will move throughout the space. The orientation of the openings such as doors and windows plays a major role to achieve thermal comfort through natural ventilation.  
It is recommended to place windows opposite to each other or at different levels, so the circulation of air results better in achieving comfort.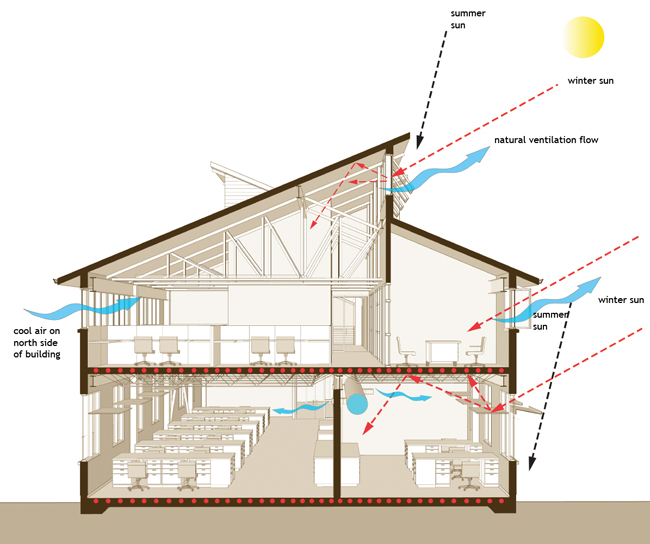 5. Natural Lighting:
Sun is the source of natural lighting and it contributes in saving lots of energy. Using artificial lighting can add upto the extra heat which can lead to uncomfortable environment inside the space. The natural lighting is beneficial in many ways, it cut down negative spaces, create positive environment among the users and also help in killing the germs. But one thing which needs to be taken care as a designer is the glare because it can create discomfort for the occupants.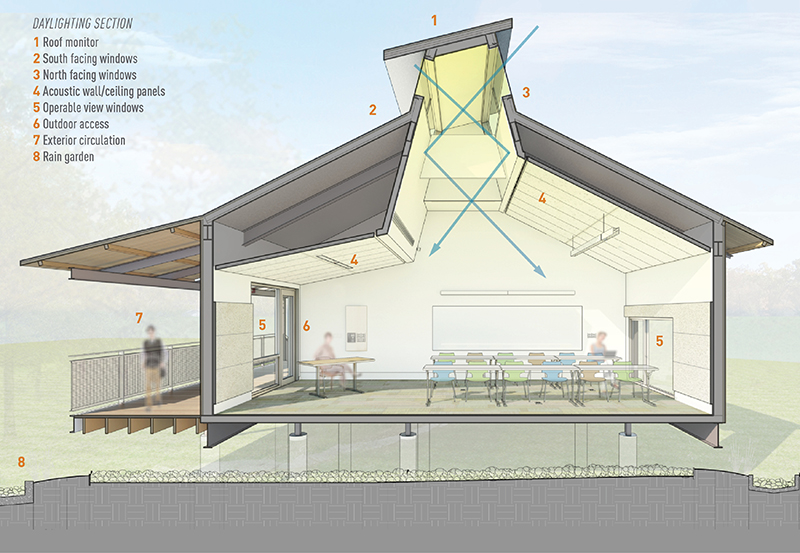 6. Shadings:
Unprotected glass windows is often the greatest source of heat gain and shadings are the solution to this problem. Shading reduces summer temperature, improves comfort and save energy. Effective shading can block upto 80% of the heat. There are several types of shading such as vertical and horizontal shading, eaves, window awnings, shutter, pergolas and planters etc. The calculation for shading designing is as per angle of the sun, location, climate and orientation of the site. If calculated by keeping all these parameters in mind the shading can maximize the thermal comfort inside the space.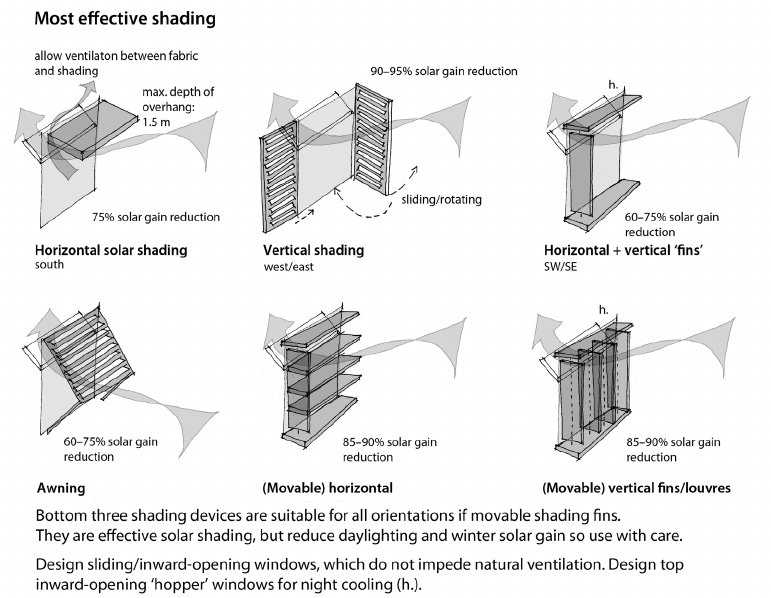 7. Materials:
The materials used in the building plays a vital role in heat gain inside the building. It is very important as a designer to understand the importance of material usage. The use of local/vernacular available materials can cut down on energy consumption and ultimately in cost of the building. For example- For hot climate minimum glass use is recommended so as to minimize the heat gain inside the building. But in case of cold climate the use of glass is maximized to gain more heat in order to achieve comfort inside the space.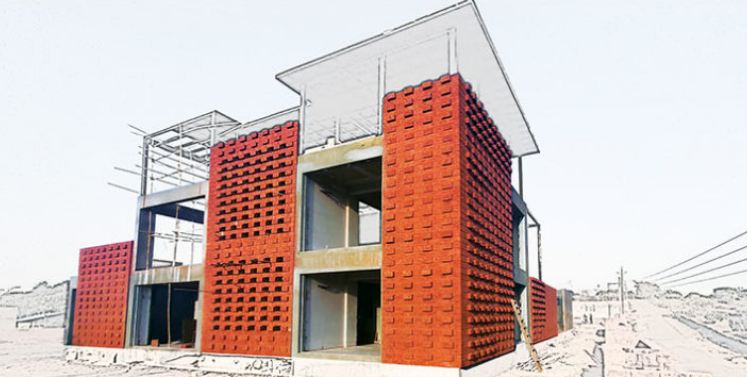 8. Landscaping:
Landscaping inside and outside the building space can create a lot of difference and helps in maintaining the thermal comfort. There can be several ways to design landscaping for indoors and outdoors. For example- For hot climate the series of evergreen trees can be planned on the south or west direction in order to block the direct harsh sunlight entering the building. For indoors the landscaping can be designed in courtyard or other spaces.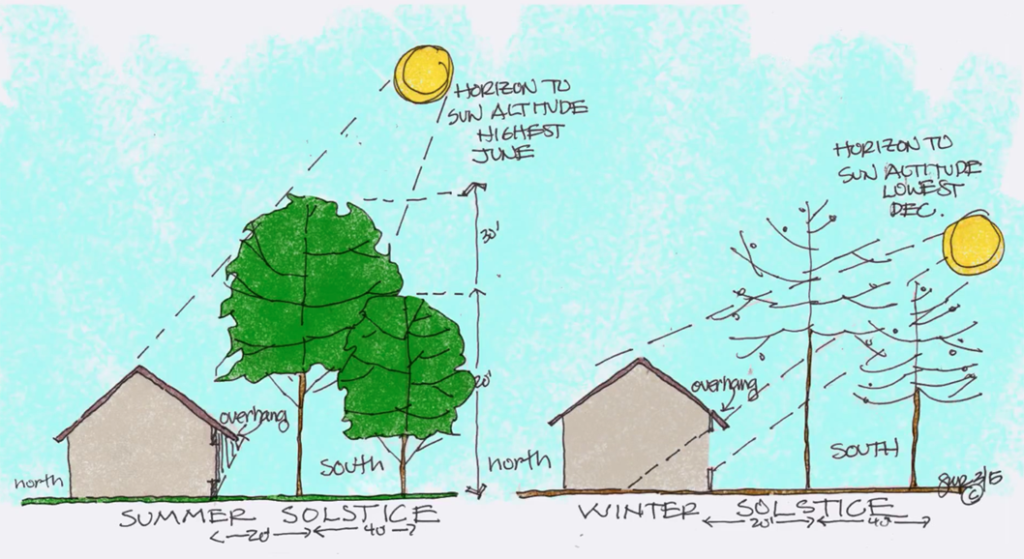 9. Water body:
Planning a water body indoors and outdoors of the building space can help in creating a micro-climate. This micro-climate can help in achieving thermal comfort which will contribute to energy efficiency of the building. For hot and dry climate it may create a cooling effect because it absorbs the heat and help in lowering the temperature of the space.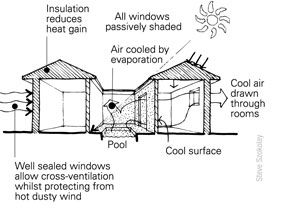 10. Use of Renewable source of energy:
Renewable sources of energy such as solar energy (solar panels), wind energy or geothermal energy can be utilized to generate power for lighting, cooling and heating. These techniques will surely help in achieving thermal comfort and also increase energy efficiency without hampering the environment of the buildings and its surroundings. Such techniques can be costly during the installation time but in the longer run these turns out to be cheap and best.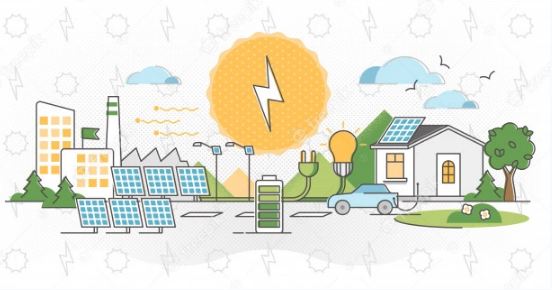 Above discussed are few major points on how to achieve thermal comfort using passive design techniques. There are  numerous other points that can be added but important ones as per my understanding has been discussed. I hope you have liked this blog on How to achieve thermal comfort using passive design techniques.
If you liked this blog, please let me know through your comments. Please share it with other people who are passionate about architecture and design. Contact us in case of any queries and also read my previous blogs related to architecture and travel. Thank you.