The Himalayan regions of India such as Himachal Pradesh, Uttrakhand and Jammu Kashmir are likely to suffer landslides during monsoons. Resulting in causing loss to human life and infrastructure. Himachal Pradesh has been witnessing many severe landslides in recent time. The question here arises that are these landslides in Himalayan regions-Sign towards Climate Change? Read till the end and let me know what is your take on this one.
What is landslide?
As it can easily judged by name – Sliding of land. It is the process in which there is movement of large amount of land, soil, debris or rocks under the influence of gravity.
As per USGS Landslides can happen due to various reasons which can include natural and man made or combination of both. Term "landslide" refers to a variety of processes that result in the downward and outward movement of slope-forming materials, including rock, soil, artificial fill, or a combination of these. The materials may move by falling, toppling, sliding, spreading, or flowing. Schematics in figure illustrate the major types of landslide movement.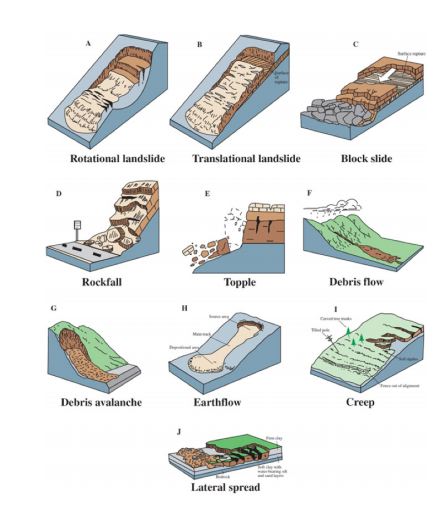 Causes of Landslide:
There are multiple causes of Landslide and these are natural as well as man made, following are the main causes of the earth quake:
Natural Causes:
Heavy and prolonged rainfall
Cloudburst
Earthquake
Man made Causes:
Deforestation
Quarrying or Rock mining
Bad agriculture practice
Himalayan Regions of India:
In India the northern part (area near to Himalayan region) of the country is more prone to landslides as compared to rest. Following are few maps and figures which shows how much prone are the Himalayan regions for landslides: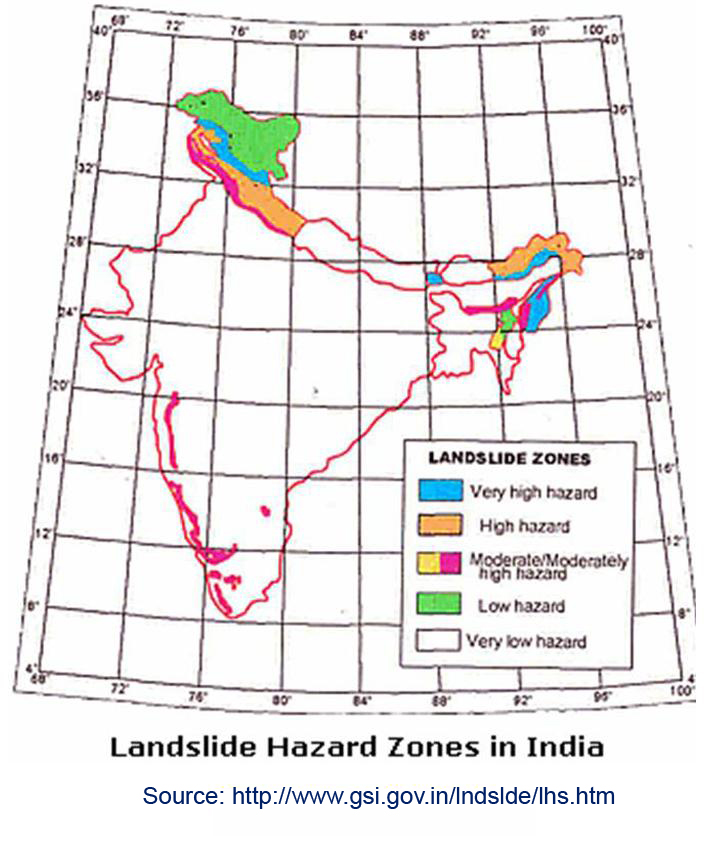 India has been divided into 5 types of Landslide Hazard Zones:
Zone I- Very high hazard
Zone II- High hazard
Zone III- Moderate/ Moderately high hazard
Zone IV- Low hazard
Zone V- Very low hazard
It can be clearly seen from the map that most part of Indian Himalayan ranges in J&K, Himachal and Uttrakhand is covered with Zone I, II and III that is very high, high and moderately high hazard.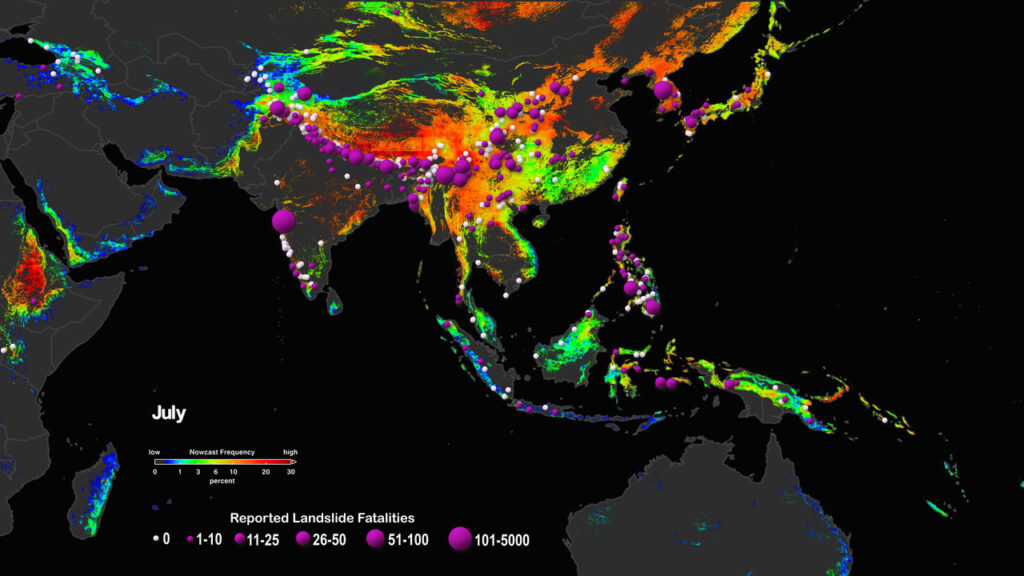 NASA'S Landslide Hazard Assessment for Situational Awareness (LHASA) risk model and Global Landslide Catalog track the areas most at risk from deadly landslides, which can cause effects ranging from destroying towns to cutting off drinking water and transportation networks. Credit: NASA's Scientific Visualization Studio/Helen-Nicole Kostis
Loss due to Landslides:
Landslides create loss of human life as well as to infrastructure. As per WHO landslides can cause high mortality and injuries from rapidly flowing water and debris. The most common cause of death in a landslide is trauma or suffocation by entrapment.
Broken power, water, gas or sewage pipes can also result in injury or illness in the population affected, such as water-borne diseases, electrocution or lacerations from falling debris. People affected by landslides can also have short- and long-term mental health effects due to loss of family, property, livestock or crops.
Landslides can also greatly impact the health system and essential services, such as water, electricity or communication lines.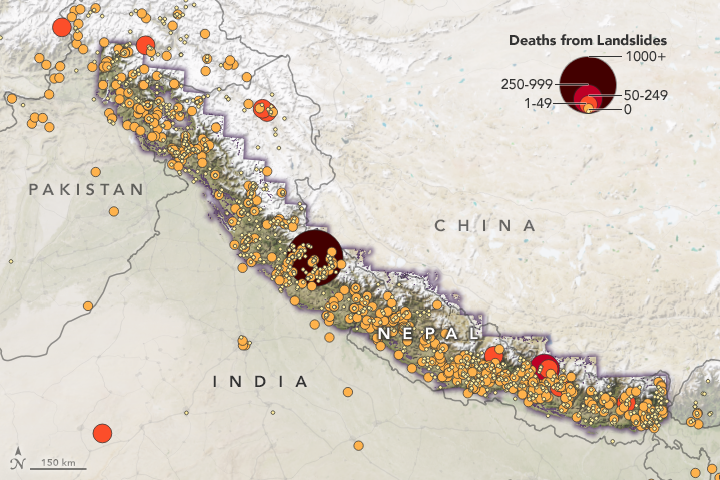 NASA's Global Landslide Catalog contains more than 1,000 records of landslides in High Mountain Asia between 2007 and 2017. Some of these events caused hundreds or thousands of fatalities. Credit: NASA's Earth Observatory/Joshua Stevens
Landslides across the south Asian country of India led to 264 deaths in 2019, a significant decrease from the previous year. The highest recorded deaths due to landslides in the last decade was in 2014 when 499 people died in the country.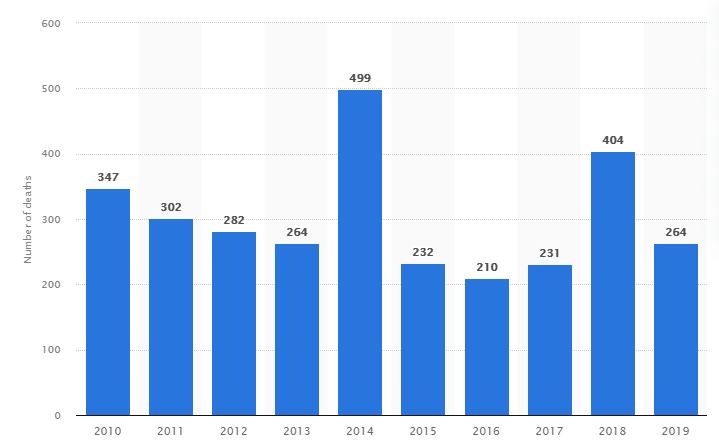 Number of deaths due to landslides across India from 2010 to 2019- Statista 2021
Case of Himachal Pradesh, India:
Now talking about the state Himachal Pradesh which is face most dangerous landslides in recent time. Following map shows the landslide hazard map for Himachal Pradesh,India.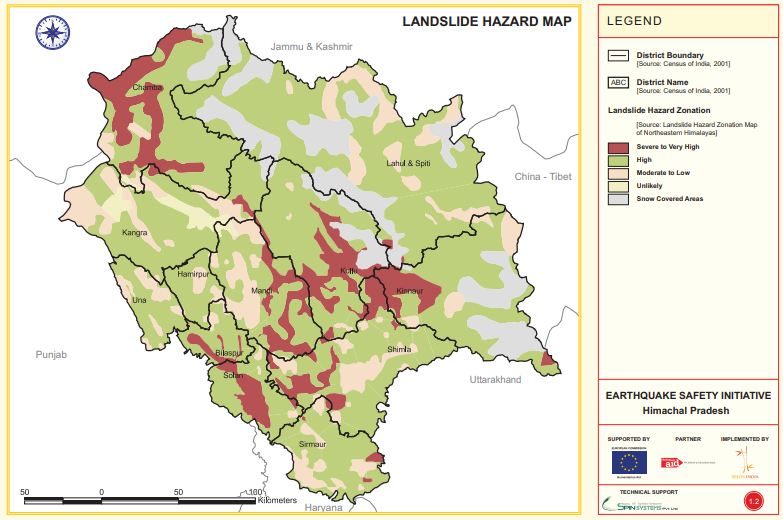 In this case most of the area of Himachal Pradesh is covered either with severe to very high or high zones prone to landslide hazard. Following are the major districts under severe to very high or high zones: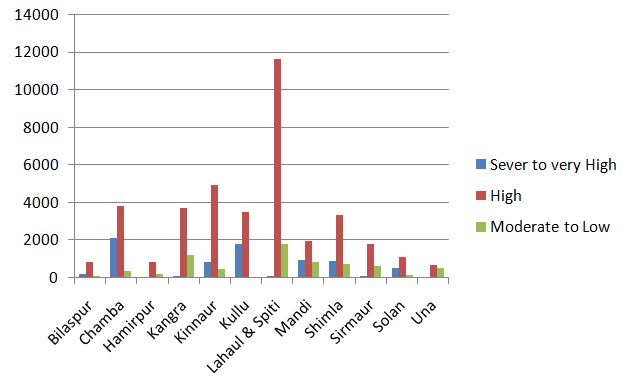 Severe to very high: Chamba, Kullu, Mandi, Kinnaur and Shimla
High: Lahual spiti, Kinnaur, Chamba, Kangra and Kullu
Recent landslides happened in Himalayan regions of India and the damages:
Massive landslide dumps five houses under thousands tons of debris in Boh valley in Kangra district.
The first heavy monsoon rain in Dharamsala region has led to a flash flood in Bhagsunag area and lower Dharamsala and a massive landslide in Boh valley located about 30 kms from here. As per the reports, about 12 people were missing in remote Boh valley as a massive landslide dumped thousands of tons of debris over their houses.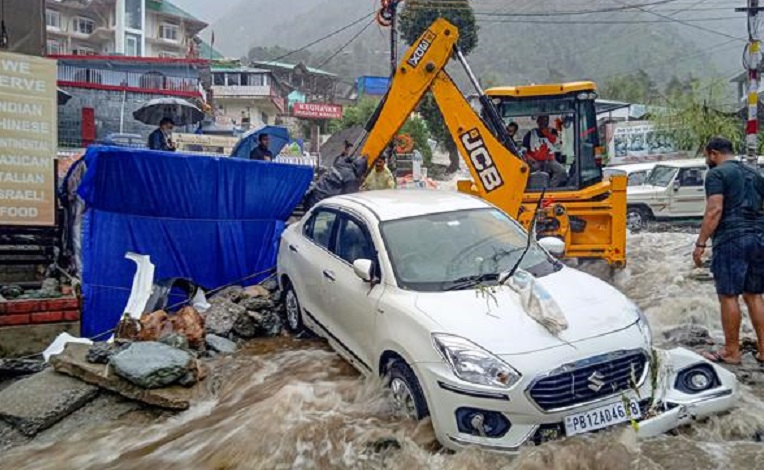 Nine people killed and three injured in landslide on  Sangla-Chitkul road, Kinnaur district of Himachal Pradesh. Heavy rainfall triggered the multiple landslides in the region. 
As the result of one such landslide, boulders fell on a tempo traveller ferrying tourists from Chitkula to Sangla. The tempo traveller was carrying 11 individuals, including the driver. Another person who was on the road was also injured in the incident.Loss of Human life, Infrastructure like road and a bridge has been reported after the incident happened.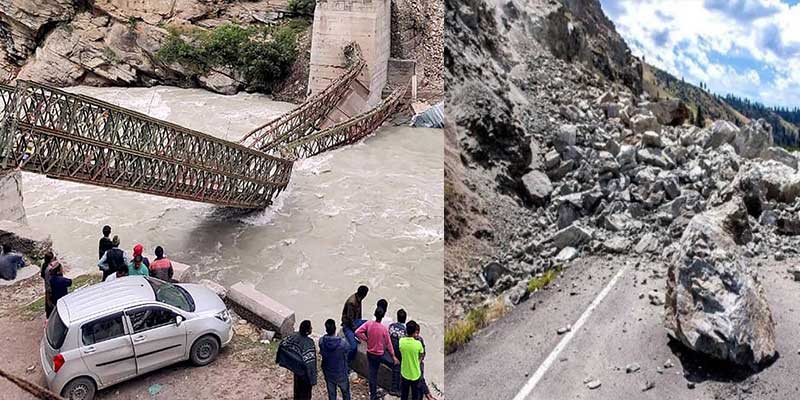 NH-5 four lane work is under process from Parwanoo to Shimla. Due to heavy rainfall during monsoon, the loose soil due to excavation for construction resulted in landslide on NH-5 causing traffic jam. But luckily no causalities  has been reported being one of the busiest roads of the state.
In a major landslide, 100-meter stretch of road connecting Paonta Sahib with Shillai-Hatkoti (NH-707) collapse at Kali Dhank in Sirmour district. 
No loss of life has been reported in this incident while traffic has been blocked on the road.
Massive rocks can be spotted rolling down the hills while onlookers try to alert people to keep away from the path of the falling rocks in Himachal Pradesh's Chamba. Terrifying videos of a landslide have surfaced from Himachal Pradesh's Chamba district. No casualties have been reported during this landslide.
One HRTC bus which was en route from Reckong Peo to Haridwar, one car, one Tata Sumo and one truck were found buried under the debris. Wreckage of the bus carrying 22 passengers that was buried under a landslide in Negulsari in Kinnaur district, 210 km from Shimla, was found 70 metres down the National Highway 5.
About a 70-metre stretch of the highway was blocked by debris. There were about 300 vehicles stranded on the both sides.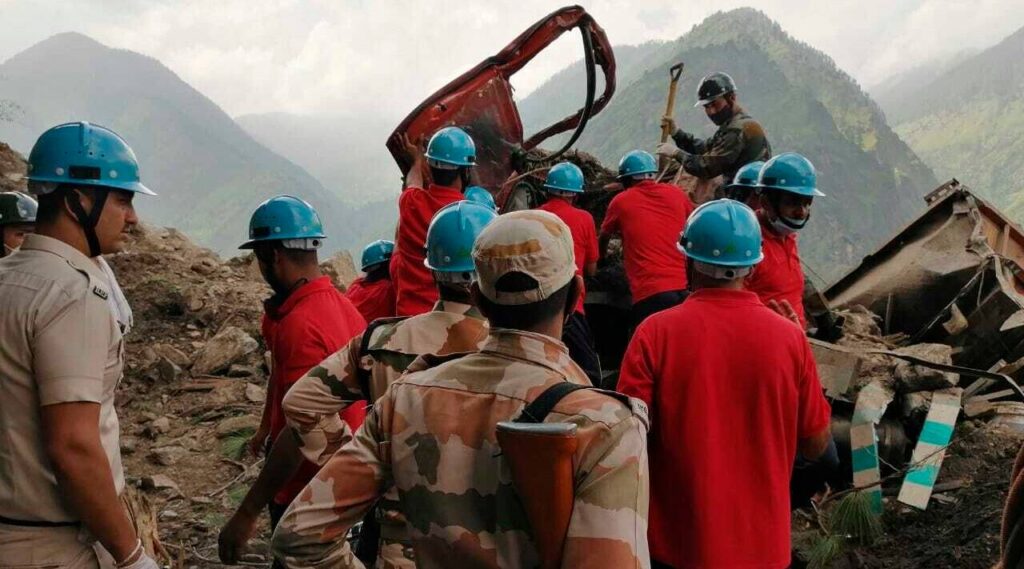 How Climate Change leads Landslide in Himalayan Regions:
The impact of climate change in the Himalayas are real. Himalayas are one of the world's most sensitive hot spot to global climate change. Melting glaciers, erratic and unpredictable weather conditions, changing rainfall patterns and increasing temperatures are impacting on the people and wildlife species of the region. There are many reasons that leads to landslide in Himalayan region:
Shift in rainfall pattern:

More frequent and intense rainfall events due to climate change can be one of the reasons for frequent landslides happening in Himalayan regions. The recent landslides mentioned above happened in rainy season during monsoon in India which start from July to September. As Earth's climate warms up there is change in water cycle and also there is sift in monsoon and rainfall pattern. This ultimately make the rock or strata weak which leads to sliding of that land area.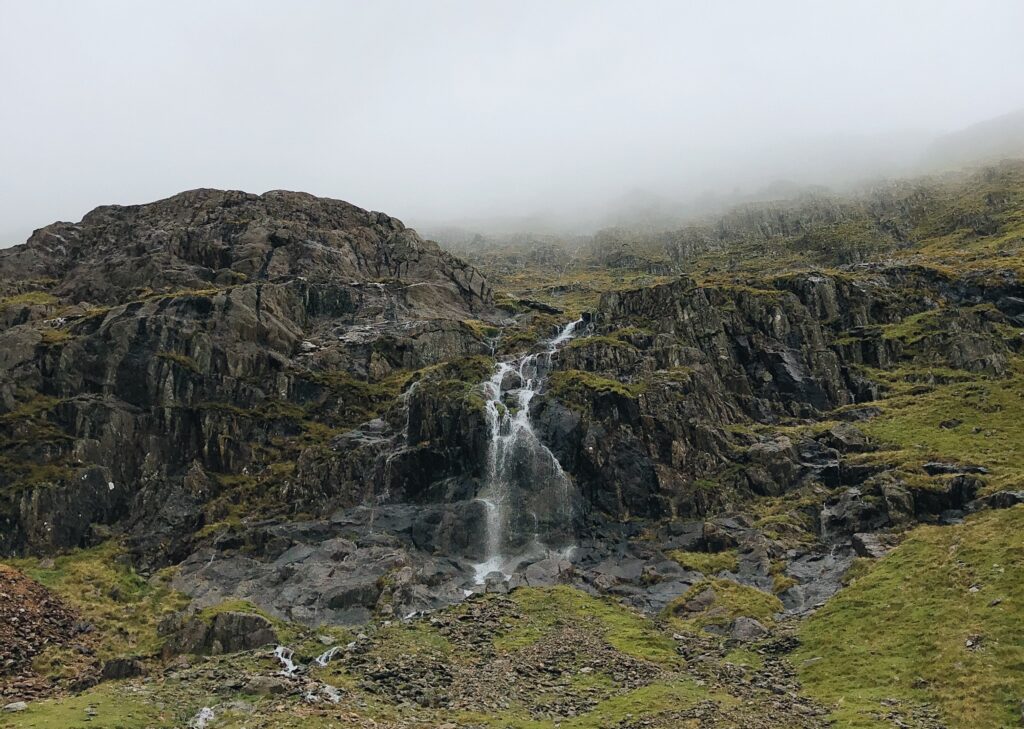 Melting of snow and glacier:

According to NASA, Himalayan mountain ranges store more fresh in the form of snow or glaciers than any place in the world outside the poles. Millions of people reply on this for drinking and irrigation purpose. Rapid and continuous melting of snow and glaciers due to global warming and climate change lead to decrease in strength of land and finally resulting in landslides.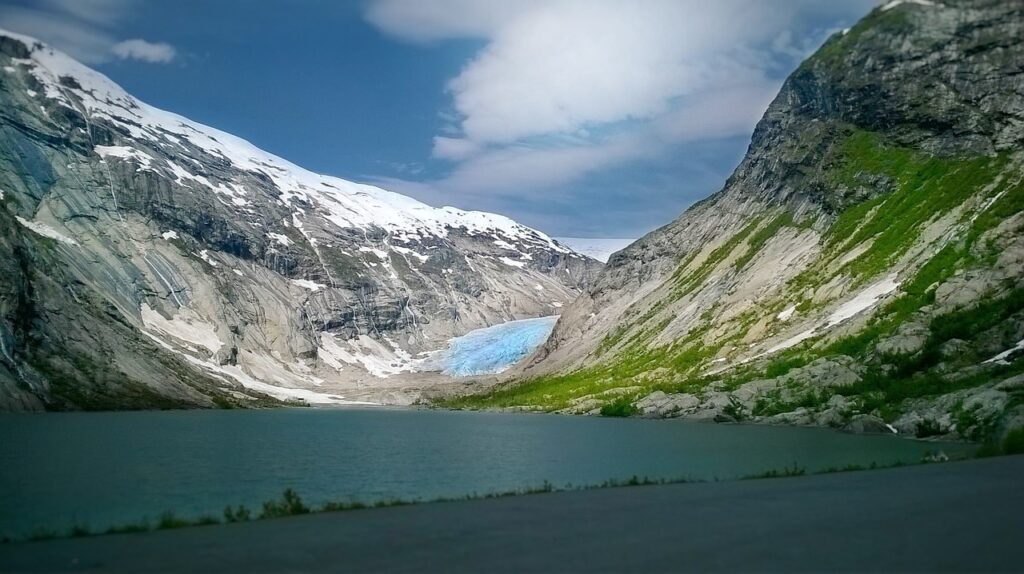 UHIE (Urban Heat Island Effect) due to near by regions:

Due to rapid urbanization in the nearby places in the northern region (such as Delhi, Noida, Gurugram and Chandigarh) are affecting the Himalayan region. These urban areas are creating Urban Heat Island Effect which is directly or indirectly affecting the nearby areas. The heat is getting slowly transfer to the northern side of the country which consists Himachal Pradesh and Uttrakhand which are more of hilly areas. Ultimately this results in increasing temperature, changing climate pattern which further leads to disasters like landslide.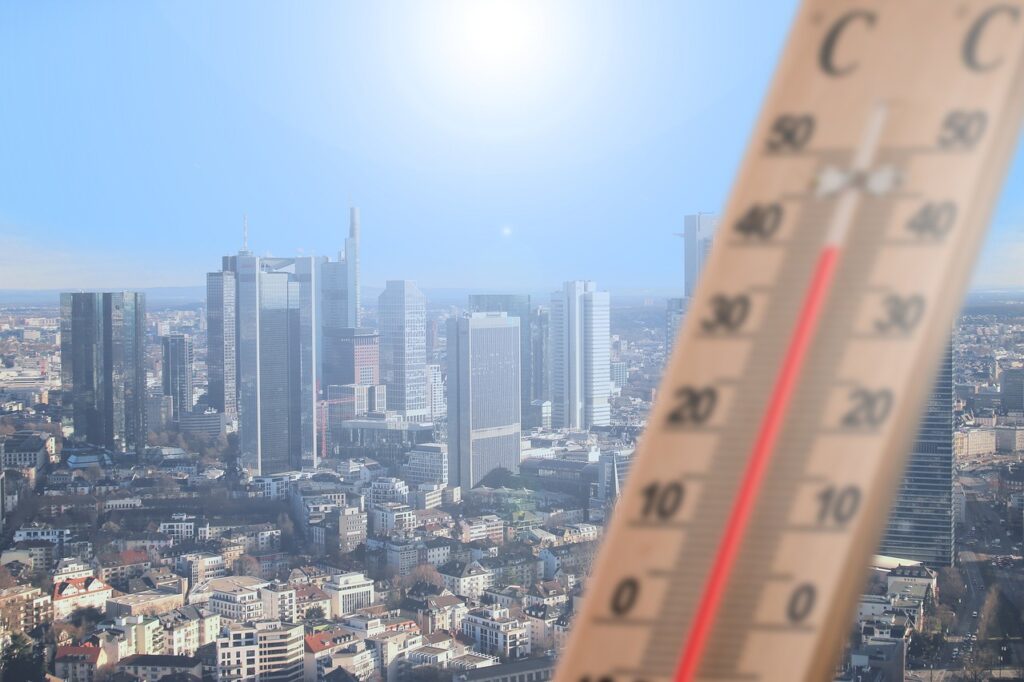 Slopes altered due to human activity:
Due to various construction activities such as road widening, retaining walls, dams and many hydro power projects, mining and quarrying are responsible for weakening of the hills and the surrounding areas which gets more vulnerable for landslides during heavy rainfall, cloudburst or earthquake.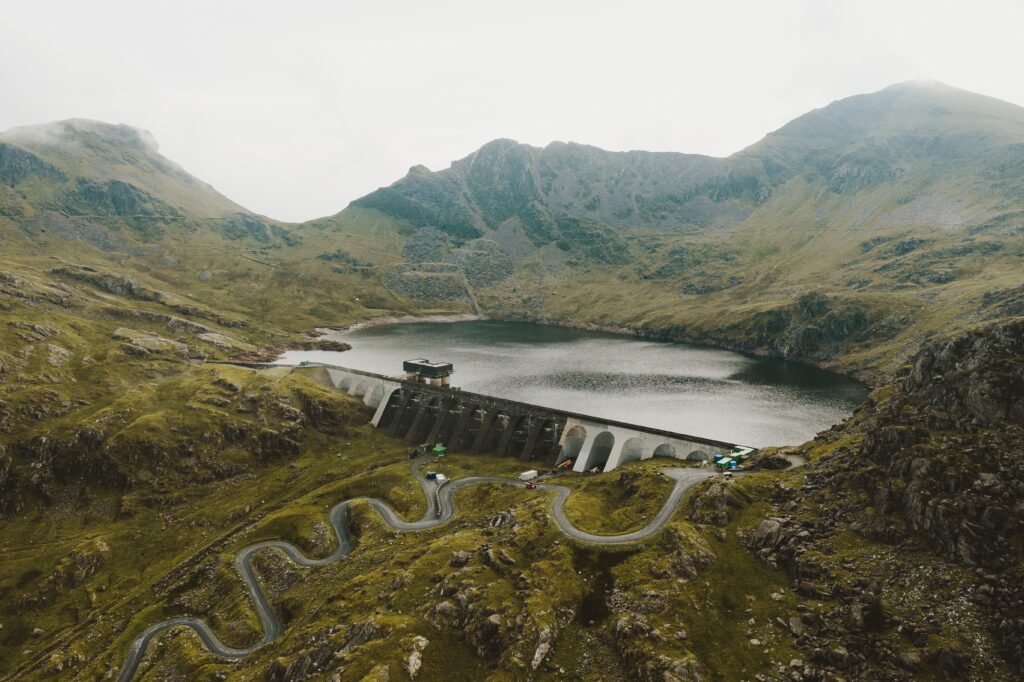 Deforestation leads to landslides:

Climate change increases the susceptibility of surface soil to instability because of abandoned agricultural areas, deforestation and other land-cover modifications. Due to deforestation the soil becomes loose and more vulnerable for landslide. Anthropogenic activities and uncontrolled land-use are other important factors that amplify the uncertainty in landslide hazard assessment.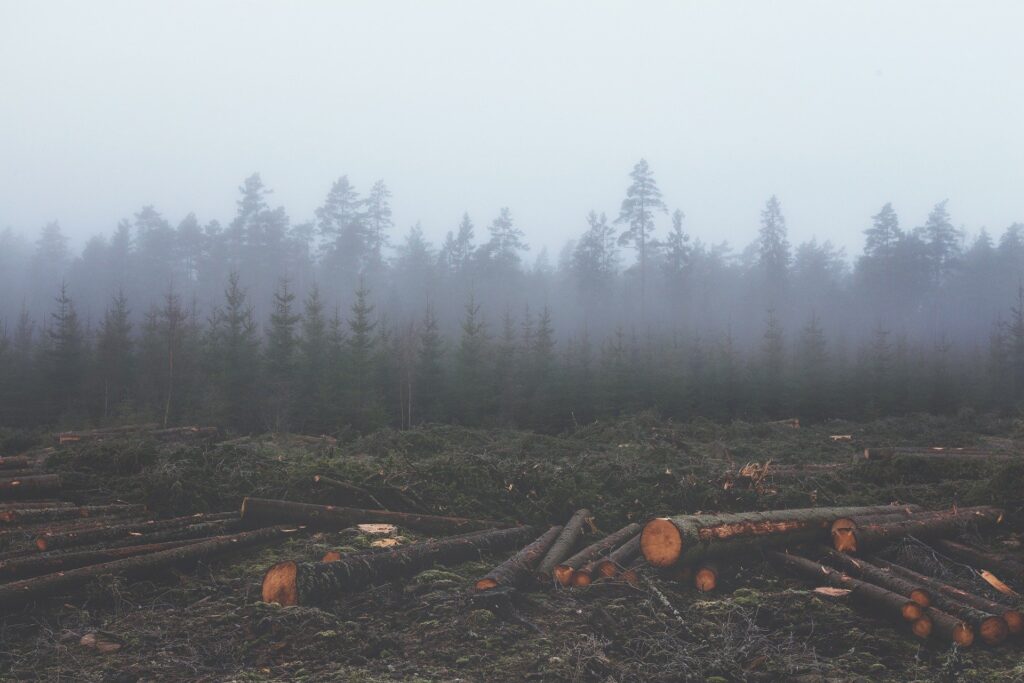 Conclusion:
As we discussed the various factors that are leading to landslides because of climate change, so as a nation it is really important to focus on prevention of these frequent landslides in Himalayan regions of India. Construction and infrastructure is no doubt necessary for the development as a nation but not more than loss of human life. Development and safety of the people can go hand in hand. Proper planning and measures need to be taken because hilly terrain is really a challenge when it comes to management of such region. Indeed it is not easy to depict landslide disaster because these events are sudden in comparison to the others like cyclone or flood. 
Also scientists are working hard on the same. But being an environment planner I think that it is really important to plan and need to get prepared for coming years by looking at the previous years patterns. Some projections or depiction could be made in order to save the life of the people and other species of the nation.It is the high time we care about our environment and take climate change as a serious problem. We can not change everything in day or two but slowly and steadily if we work upon it then it will be beneficial to our future generations.
I hope you liked this blog, Landslides in Himalayan regions-Sign towards Climate Change? Please let me know in the comment section and also read other blogs related to Architecture and Travelling to know more. In case of any query please Contact and be safe, take care. Thank you.