India on account of unique geo-physical setting is highly prone to earthquakes of varying intensities. The country has faced several devastating earthquakes in the past resulting in a large number of casualties and severe property damage. Read to know till end to know more about Dhajji Dewari-Traditional Earthquake Resistant Construction of Kashmir.
India has been classified into different zones indicating the intensity of damage or frequency of earthquake occurrences. These zoning maps indicate broadly the seismic coefficient that could generally be adopted for design of buildings in different parts of the country. The capital cities of Guwahati and Srinagar are located in seismic zone V which falls under very high risk zone.
Introduction:
Dhajji Dewari is one of the classic traditional construction systems of the Himalayan region found in India and Pakistan. This construction technique played an underdog before a massive earthquake hit the Kashmir region in the year 2005 and it is known as one of the deadliest earthquakes in the history of natural disasters. 
As per India Today-The epicenter of the earthquake was Azad Kashmir region in Pakistan and the magnitude was measured as 7.6 on the Richter scale and other countries like India, Afghanistan, Tajikistan and China were also affected. Approximately 86,000 people killed, 69,000 were injured and about 2.8 million were displaced. That time Dhajji Dewari proved to be surprisingly earthquake resistant while other millions of buildings got collapsed and that's when it got worldwide recognition.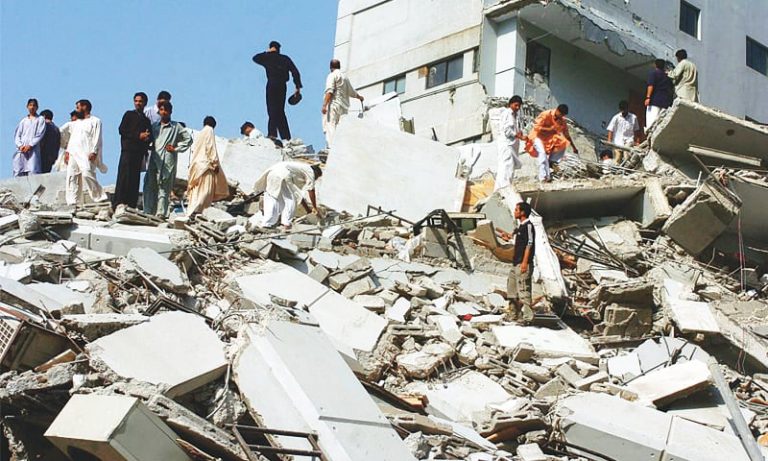 Concept of Dhajji Dewari:
There is an interesting fact behind why it is known as Dhajji Dewari. In the ancient language of carpet weavers, the word Dhajji is derived from a Farsi (Persian) word which describes quilt patchwork. Due to its resemblance in the appearance of the Dewari (which means wall) with Dhajji art work it is known as Dhajji Dewari.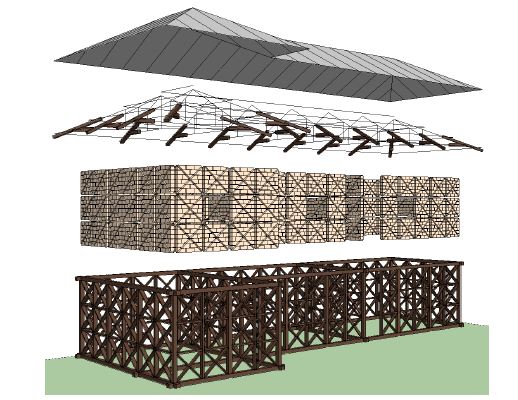 As per ENVIS center on human settlements, Dhajji Dewari has been in practice for more than 200 years. As the name itself describe, the construction seems as patchwork done using different types of patterns and it is also referred in the Indian Standard Codes as brick nogged timber frame construction.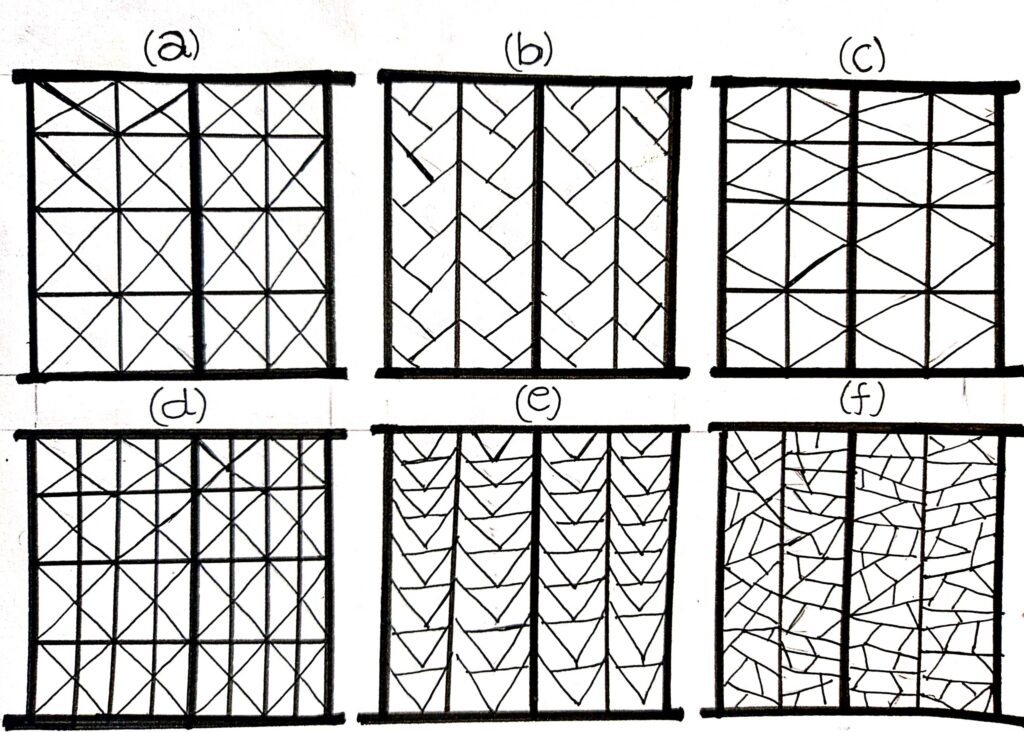 Different types of Dhajji dewari patterns
Building design for Dhajji Dewari construction:
Here we are not only discussing about the Dhajji wall but also the whole designing process of the building. Following are few points that are necessary for designing a building for Dhajji Dewari construction: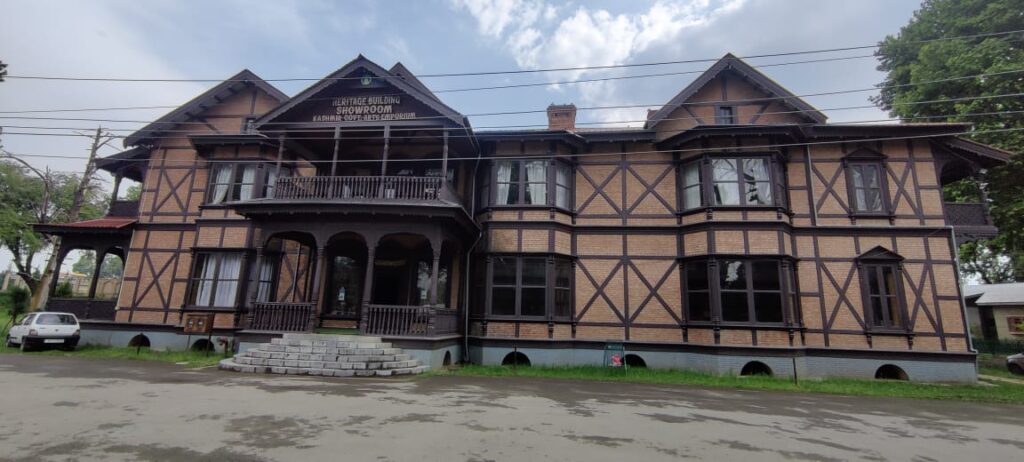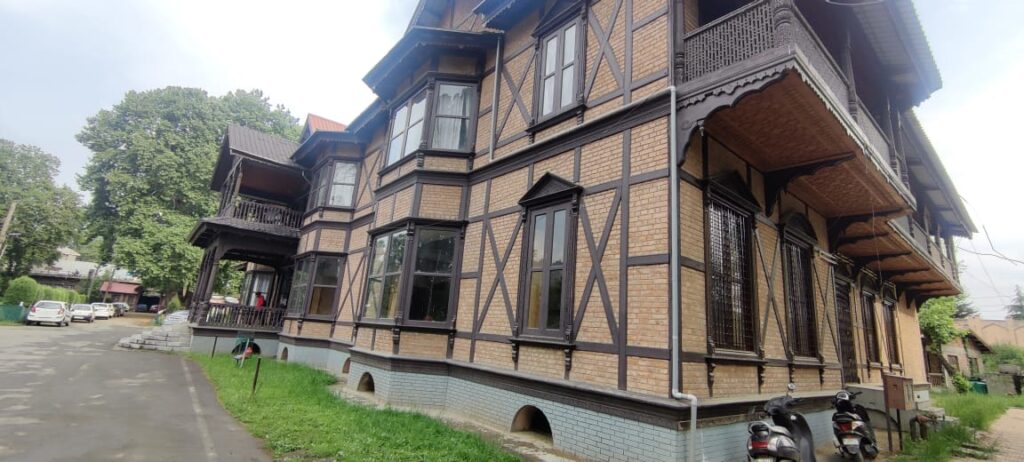 Planning of the building:
Planning of the building for Dhajji Dewari is best if kept simple. The building form is preferred either square or rectangle in shape which can be further subdivided into smaller squares or rectangles (rooms) as per the requirement of the spaces.
The spaces inside the building should be evenly distributed or symmetric in order to balance the structure.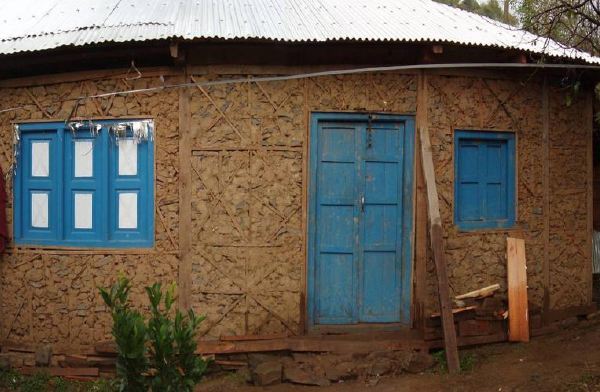 Foundation should be firm and strong, prepared with stone and cement mortar. 1 foot foundation should be above the ground to support the plinth beam aslo known as Dasa. The Dasa (Plinth beam) in case of Dhajji Dewari construction is made of timber. It is important to anchor dasa properly with the foundation.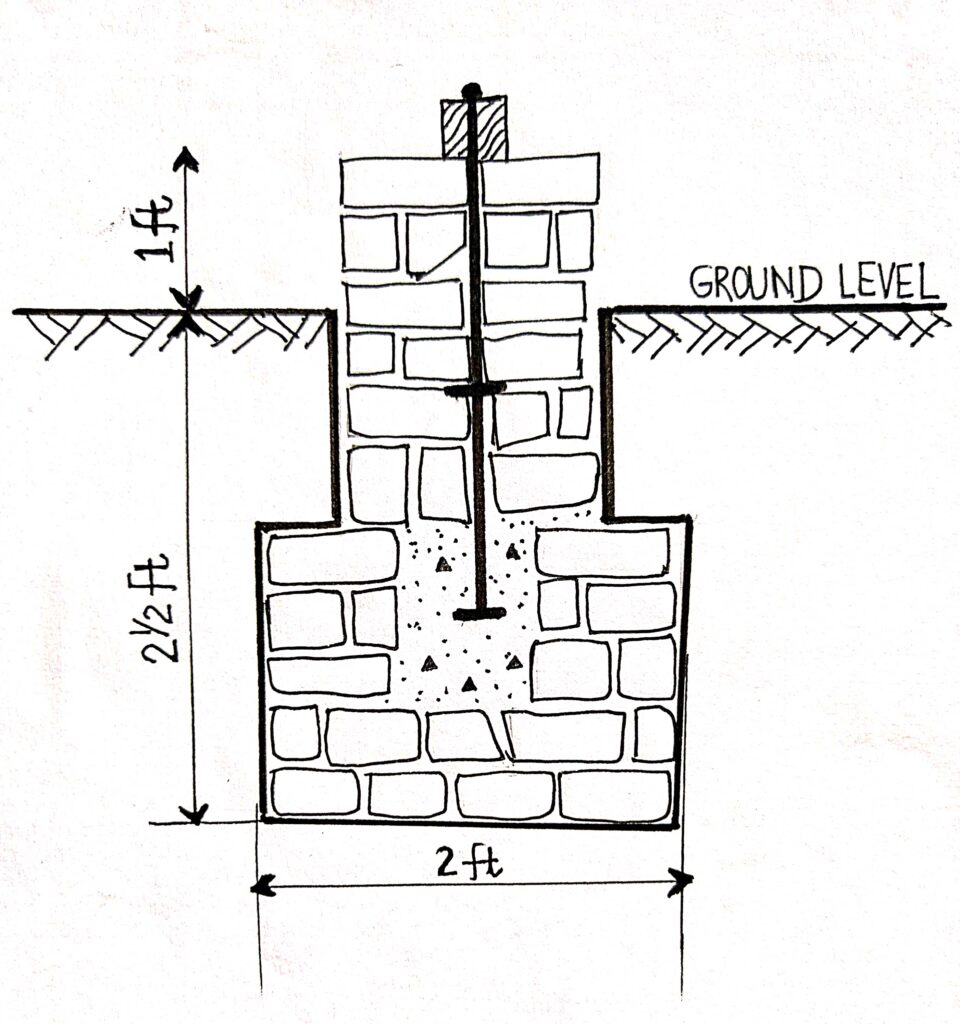 The frame structure:
The frame is made up of timber posts of different sizes which are combined together to form a basic structure.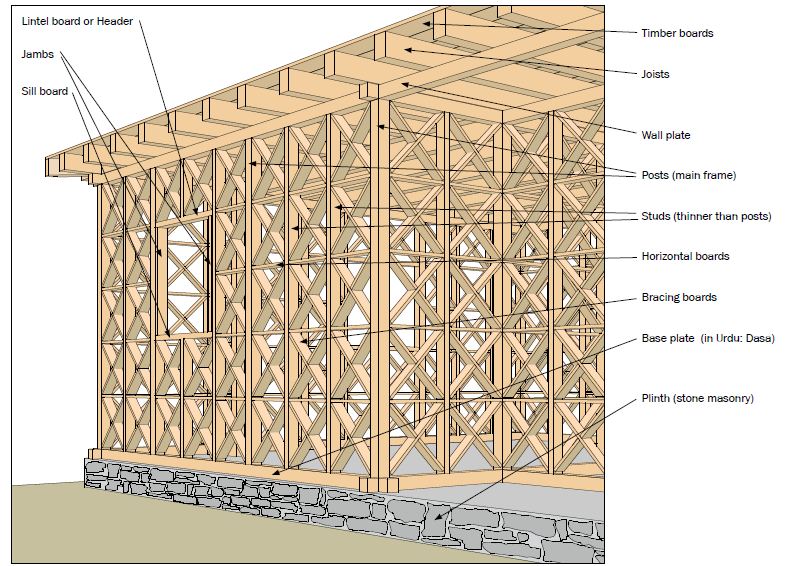 The main post must be 4″x4″ in size which should be at a distance of 4-6 feet apart (Vertically). Then their are post which are in between the main post which must be 4″x2″ in size and should be maximum 2 feet apart (both horizontally and vertically)
Openings of the structure:
Traditionally the openings (doors and windows) were kept smaller in size, typically timber frame is made around the windows. Wooden shutters were used instead of glass for windows.
Roof of the building:
The roof of these vernacular buildings can be flat timber and mud roof, or a pitched roof with timber/metal sheeting.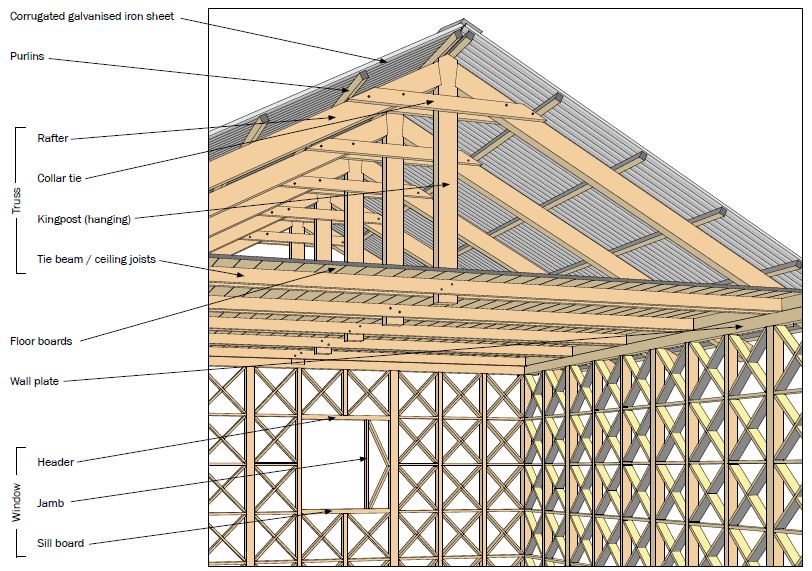 Use of Vernacular Materials for Dhajji Dewari construction:
As it is the traditional construction system there is maximum use of local materials. Following are the major building materials:
Timber
Stone or Brick,
Mud,
Metal sheeting

Construction technique for Dhajji Dewari:
Dhajji Dewari is timber frame construction rather than masonry bearing wall construction. It is basically a braced timber frame structure which can be achieved using different patterns. Further these timber bracing or frames is filled with thin layer of either stone or brick masonry which result in a wall and it is done in order to create patchwork of small size masonry panels. 

Mud mortar is used to fill the gaps created between the stone or brick. At the end the walls are plastered with mud plaster to give it a sealed and smooth finish. The building can be made 1-4 stories using Dhajji Dewari construction technique.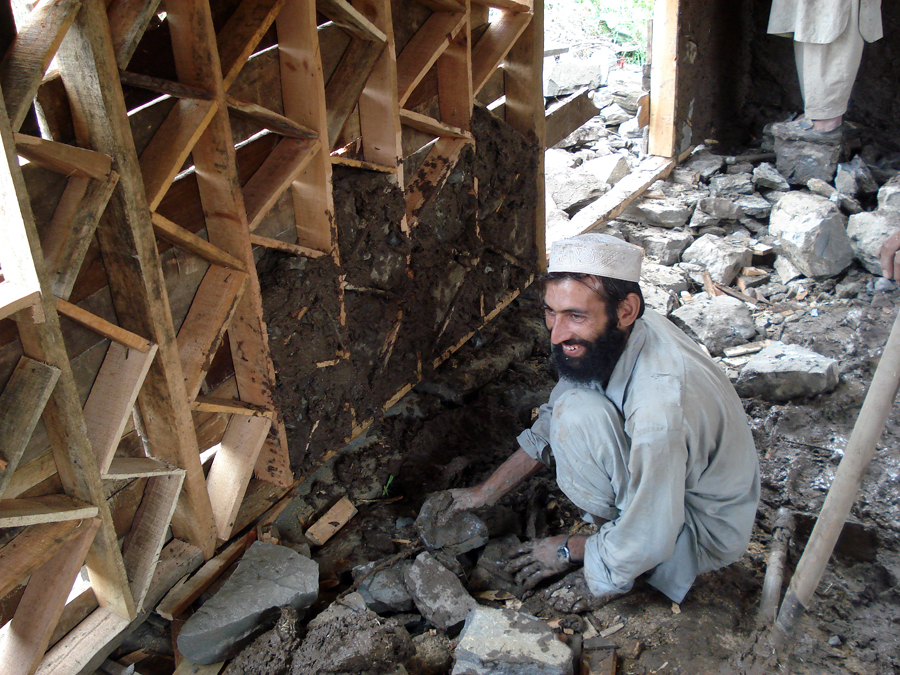 Joints in Dhajji Dewari construction:
Jointing plays a major role in Dhajji Dewari construction system. Traditional joints are a part of this construction which are used as wall joints, corner joints and plinth beam joints. All the joints must be executed with great care. The quality of joints will keep you and your house safe and the types of joints used in Dhajji dewari are Lap joint, scarf joint, Tenon and mortise joint.
Dhajji Dewari-Traditional Earthquake Resistant Construction of Kashmir, How?
'Earthquake don't kill people-buildings do' but Dhajji Dewari emerged surprisingly earthquake resistant in the disastrous earthquake in Kashmir region in 2005. In less than three years over 120,000 rural houses has been rebuilt using Dhajji construction technique in Azad Kashmir region in Pakistan. Different components in Dhajji Dewari plays different role in order to save a building collapsing in case of sever earthquake, same has been explained in detail below:
Role of Timber studs:
Timer studs plays a major role as it divides the infill which prevents the loss of other numerous masonry panels which helps in gradual deterioration of rest of the wall.
Furthermore, the tightly spaced studs prevent diagonal shear cracks from propagating inside a single panel and limit the risk of out-of-plane collapse of masonry of thin half-brick walls, even in the upper stories and gable portion of the walls.
The vertical loads are carried to the ground via the frame made of timber studs and also provide the required elasticity in the structure.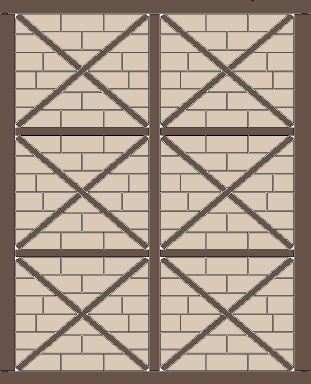 The infill masonry plays a primary role in case of earthquake loads as it is an important part of the structural system.
The mortar, masonry infill panels break quickly in-plane, absorbing seismic energy through friction with the timber framing and between cracks in the fill material. As a result, the earthquake energy is distributed uniformly.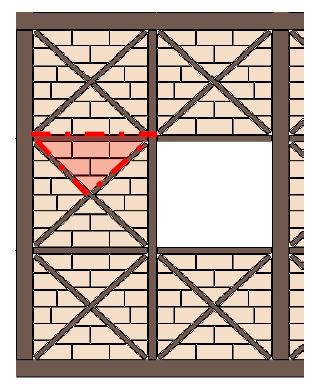 The masonry walls are maintained as thin as possible. This reduces the building's bulk and as a result the inertial forces that must be resisted during an earthquake.
Pine needles and straw can be added to the mortar in order to make it more elastic and resistant to earthquake.
Role of openings:
Avoid placing the too many openings on the same walls of the structure.
Windows must be place 2 feet away from the each other and from corners as well.
Dhajji Dewari, Eco-Friendly and Sustainable construction:
Apart from the natural fungus and insect resistant compounds in the timber itself, these constructions are environmentally safe and traditionally would not have included any hazardous products in their construction.
During an earthquake, houses built with Dhajji technique proved to be more durable and sustained less damage than modern reinforced concrete buildings.
This traditional construction is a skillful process which provides employment to the local artisans.

Innovations for future constructions:
Dhajji Dewari is no doubt one of the most innovative construction systems already, but every Vernacular Architecture needs some improvements as per the present and future requirements so as to increase the life shell of the building which makes it sustainable also.
Walls can be subdivided using different patterns as the strength of the wall depends upon the quality of connections and number of bracing boards.
Hipped roofs (roof with four slopes) are recommended instead of gable roofs (roof with only two slopes). Gable roof needs extra bracing and also the risk of falling during an earthquake is high.
For infill always use flat stones or bricks instead of using round ones as they fall out quickly.
Using cement plaster for the walls should not be preferred as it do not provide the elasticity to the structure and do not allow necessary movement during earthquake.
Instead of cement plaster it is advisable to apply thin layer of mud plaster. It provides the structure elasticity and allows necessary movement during earthquake which avoids cracks in the building.
In order to increase the strength, galvanized wire mesh can be nailed both side of the wall as it also secure the stones against falling out.
More the openings (doors and windows) lesser will be the strength. Doors and windows are considered as weak points during earthquake, so try to make as lesser and smaller as possible.
Conclusion
So, this was all about Dhajji Dewari-Traditional Earthquake Resistant Construction of Kashmir. Dhajji Dewari is undoubtedly one of the most interesting traditional building construction techniques which need to be preserved. This is  like a complete package as it is not only vernacular and eco-friendly but also earthquake resistant construction systems. Restoring and retrofitting can be easily done for Dhajji Dewari. These types of construction techniques provide employment to the local skilled labors or artisans.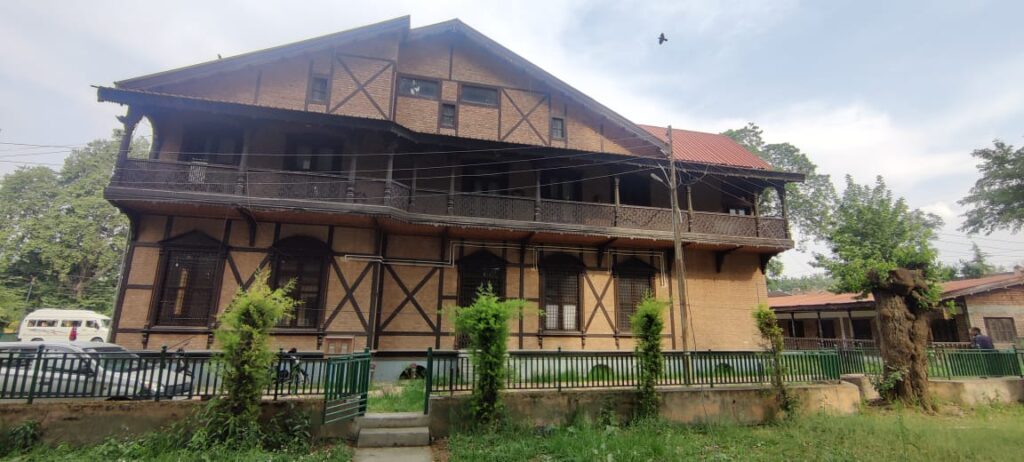 If you liked this blog Dhajji Dewari-Traditional Earthquake Resistant Construction of Kashmir, please let me know through your comments. Please share it with other people who are passionate about architecture and design. Contact us in case of any queries and also read my previous blogs related to architecture and travel. Thank you.