1. Introduction:
While you enter gate to visit gorgeous Padam palace first thing you will notice is the heritage hotel called Nau Nabh. If you are interested to know about Padam palace please read my previous blog: Padama palace, Rampur-A door to the timeless royalty. This hotel is considered as heritage which is also part of the palace complex. Hertitage hotel Nau Nabh Rampur Bushahr being run as a part of Padam palace and is a property of the Erstwhile rulers of Bushahr state, Shimla hills. This is one of the best hotels in town because it is fully equipped with all facilities & services as discussed below:

2. Property Owner: 
This heritage hotel Nau Nabh, Rampur Bushahr is a private property of Raja Virbhadra Singh.  He is the royalty and also former chief minister of Himachal Pradesh for 30 long years. Yes you read it correct because he was chosen as chief minister of Himachal Pradesh for 6 times. It is believed that this royal family is descendant of Pradyumna– Son of Lord Krishna. This hotel is new addition to the palace complex.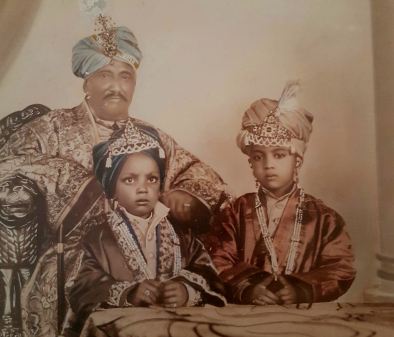 3. Location:
Heritage hotel Nau Nabh is located in the small town known as Rampur Bushahr and town is situated on the left bank of river Satluj. Rampur Bushahr has served as a capital for Bushahr dynasty which used to cover Shimla and Kinnaur hill areas.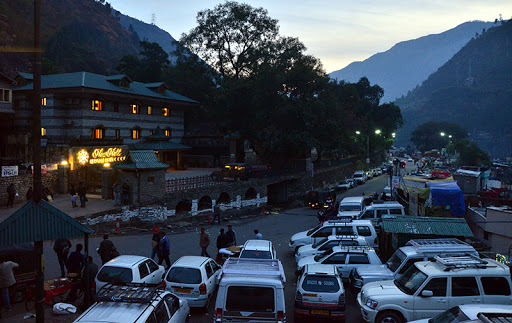 The location of the hotel is best from the tourist's point of view because it is located on National Highway i.e. NH-5. The Hotel is placed at main road near old bus stand of Rampur town and situated in the center of town.
4. How to reach:
Heritage hotel Nau Nabh, Rampur Bushahr is easily approachable.
The availability of transport:
1. Airport facility- Not available (there is no nearby air service available)
2. Bus facility- Buses are easily available from Delhi to Rampur
3. Taxi facility: Taxi facility is also easily available
The distance by road is given below:
From Delhi – approx. 470 kms (via NH-44 and NH-5, approx time-11 to 12 hrs)
From Shimla – approx. 126.4 kms (via NH-5, approx time-3 to 4 hrs)
Reasons why you should stay at heritage hotel Nau Nabh, Rampur Bushahr
5. Star Rating:
As per the infrastructure, facilities and services of hotel it has been rated as 3 star (***) hotel because it is one of the best among Rampur. For more information you can check reviews on hotel's website of tourists who has been stayed in this hotel.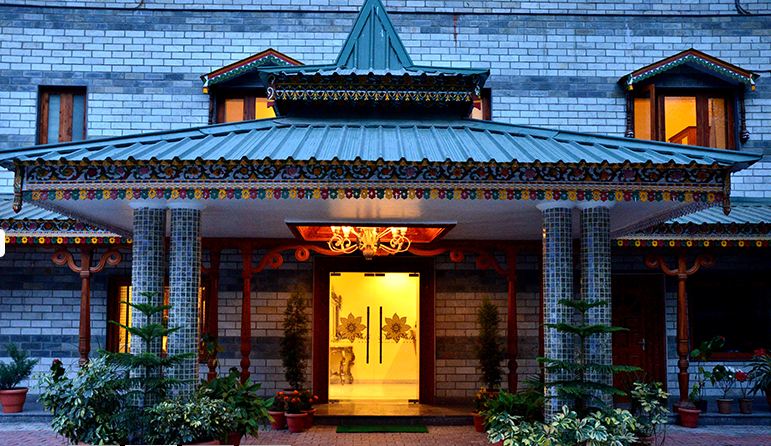 6. Property comprise:
The property comprises of the following-
a) The royal Padam palace: There is a gorgeous palace which is located adjacent to hotel building and tourists staying in this hotel will also be able to enjoy the royalty in true sense.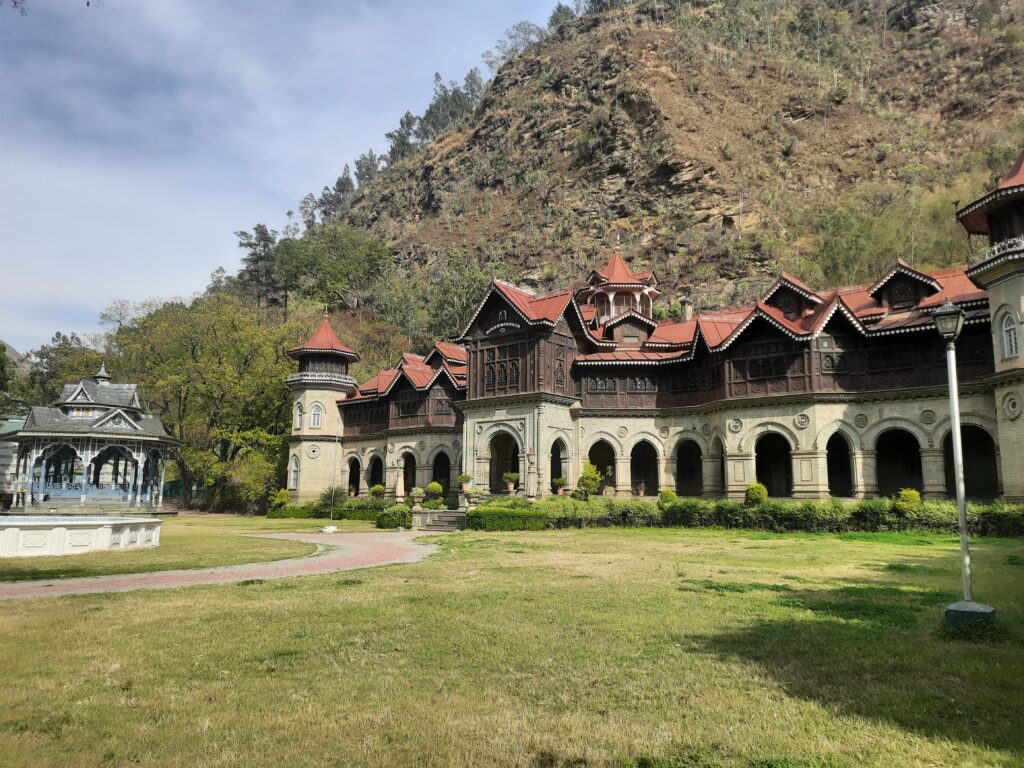 b) 30 spacious and luxurious Rooms: These rooms has been spread across 2 floors and provides you the luxury feel. There are 8 types of rooms with different tariffs depending on area of space and facilities available for the specific room type. The types of rooms are : Maharani room, Maharaja bedroom, Executive room, Nau Nabh luxury room, Luxury room, Super deluxe room, Deluxe room, Regular room.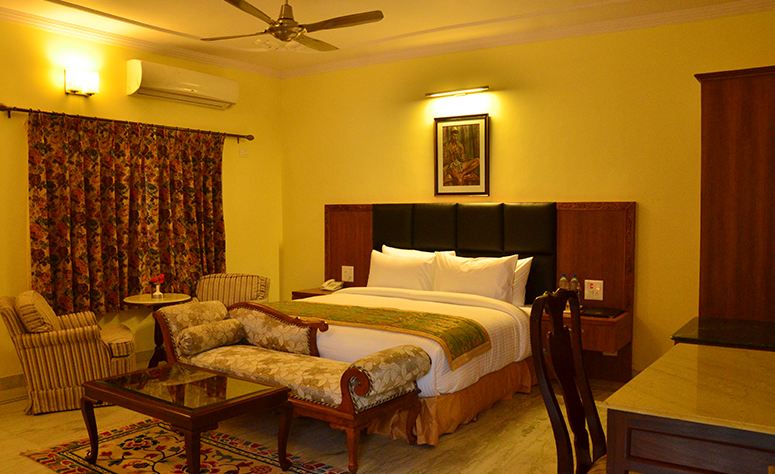 c) Restaurant: The restaurant is open for tourists who come to visit palace during day time and also to one those who are staying. The restaurant consists of kitchen and seating area. The seating is decent and interiors are also good. This is one of  restaurants which is known to serve best food served in the town.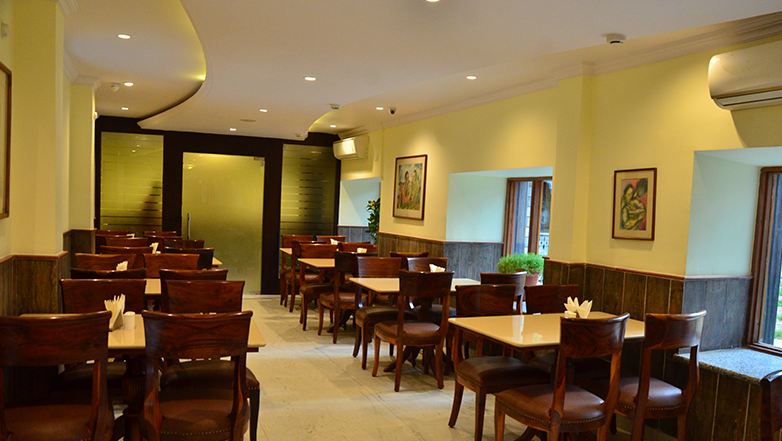 d) Hall for marriages and parties: There is hall available for events like marriages, birthday parties, other events and it can accommodate good amount of people. Also lawn area is available for events but booking has to be done on prior basis.
e) Conference room: Conference room is also available for meetings, workshops and conferences.
7. Facilities Available:
Following are the facilities available in this heritage hotel:
a) Free Parking facility: Free parking facility is provided in the hotel complex.
b) Lawn area: There is a big lawn at rear side of the hotel which can be used by people staying in hotel and can feel fresh.
c) Free wifi: wifi facility is available for the entertainment.
d) Bar: Bar facility is available  for the enjoyment of visitors (only if you are interested)
e) Complimentary breakfast: Complimentary breakfast is provided to the guests.
8. Services Available: 
Service is something that plays a major role in the hotel business. Services of the hotels should be good because guests are spending their precious money for  comfortable stay in that hotel and incase the hotel failed to provide their best services then it create bad impact on reputation of hotel. As a result, business of the hotel can result in loses.
But in case of this hotel you will find every possible services without any hindrance. You can 100% enjoy your stay because service of the hotel is their priority because I felt same when I visited here.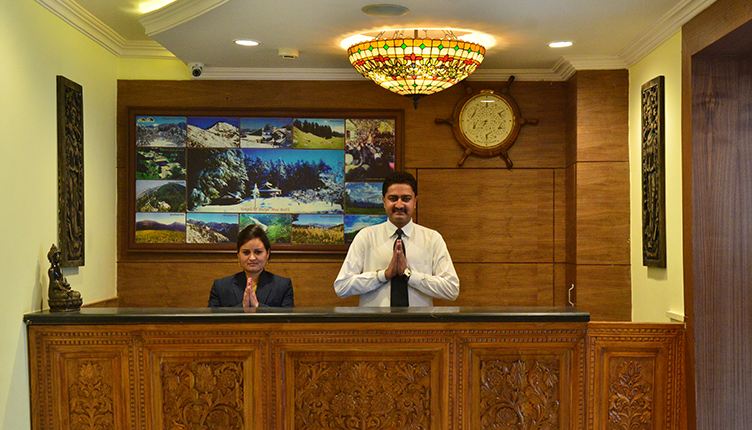 Following are services available for the guests of hotel:
a) Food and Drinks: Bar, Restaurant, room service and Dinning area.
b) Safety and security: Safe and secure, CCTV cameras
c) Health and wellness: First aid services, hygienic attached washrooms, housekeeping and smoking room.
d) Media and Technology: Electrical Chargers, Air conditioning, power backup, TV, wifi, intercom, telephone and refrigerator.
e) Outdoor activities and report: Lawn, Seating area, Balcony/Terrace, bonfire and Reception.
f) General services: Doctor on call, luggage storage, laundry, dry cleaning services, newspaper and wake up call.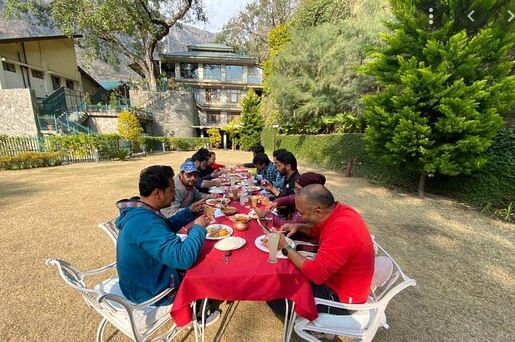 9. Room tariff per night:
The tariff charges of hotel is based on services provided and the space area availability. Following are the prices available on their official website but tariff can vary depending upon the tourism season. Also tariff for additional person is given below. Following are the prices of each room type is as per luxury level of rooms:
i) Maharani room – 6000 rupees per night
ii) Maharaja bedroom – 6000 rupees per night
iii) Executive room – 5500 rupees per night
iv) Nau Nabh luxury room – 5000 rupees per night
v) Luxury room – 4000 rupees per night
vi) Super deluxe room – 3500 rupees per night
vii) Deluxe room – 3000 rupees per night
viii) Regular room – 2500/2000 rupees per night
Room tariff for extra adult and child:
i) Extra adult: 1700 + 17.42% taxes per day

ii) Child upto 6 years: No charges, complimentary in sharing parent's room.
iii) Child 7 years-11 years: 1700 + 17.42% taxes per day with bed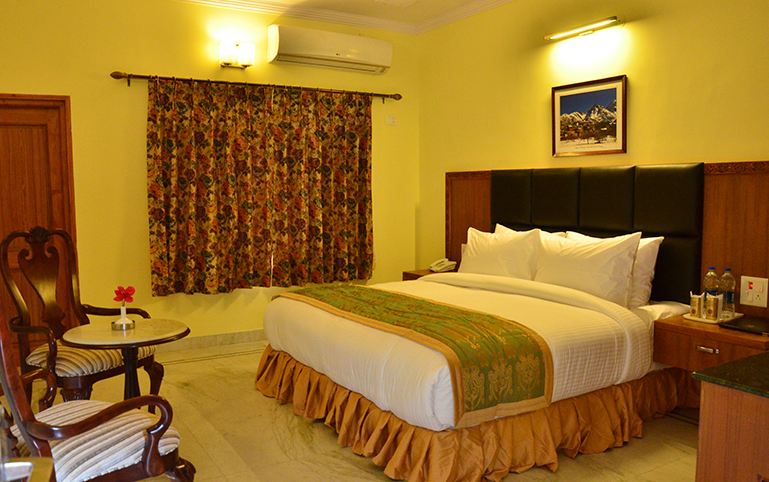 10. Architecture and planning:
Hotel's some part is old one but the main hotel building is new. Planning of the hotel is courtyard planning and this courtyard in the center is a dedicated sitting area which consists of the gallery with the continuous wooden columns with the series of arches.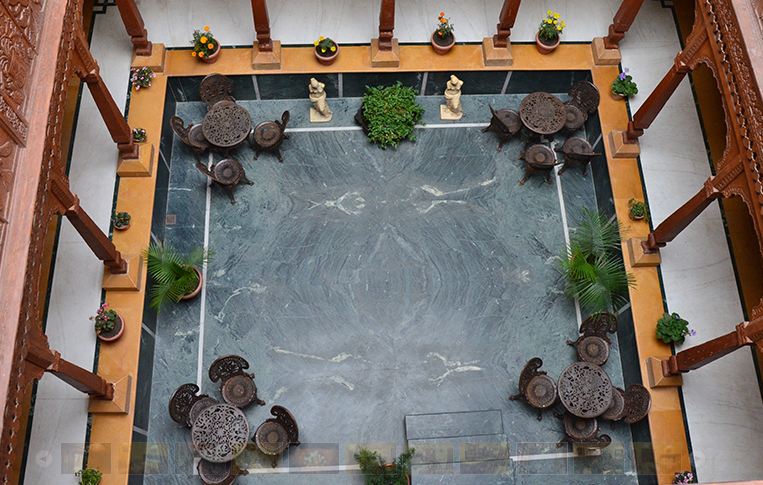 The exterior of the hotel is made in grey bricks with beautiful colored carvings and entrance has a huge portico in the front with a big glass door. There is chandelier at main door fitted in between the gorgeously carved wooden box.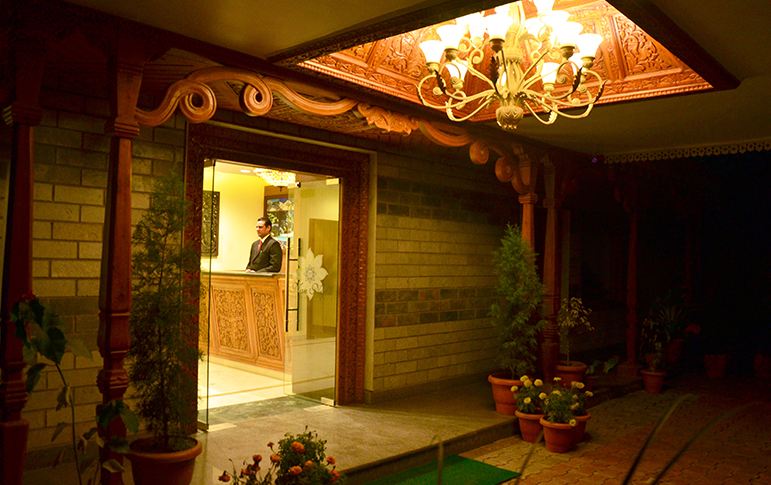 The interiors of the hotel are equally fascinating. The exquisite wooden work and the lavish furniture give it the royal look just like the palace.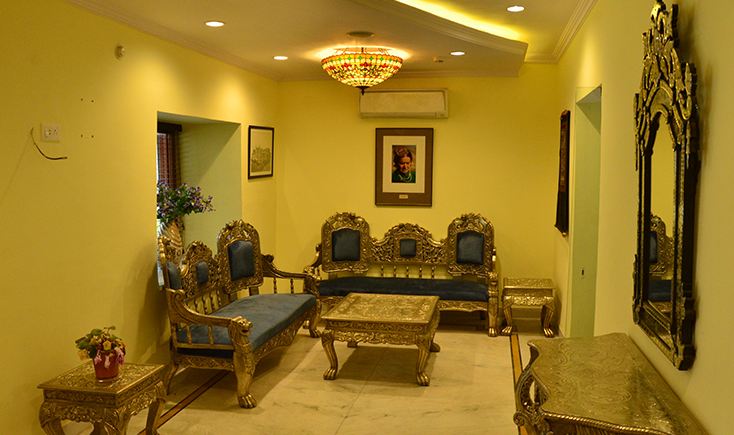 The rear facade of the hotel facing the palace is turquoise blue in color with slated roof and the beautiful wooden carved facade.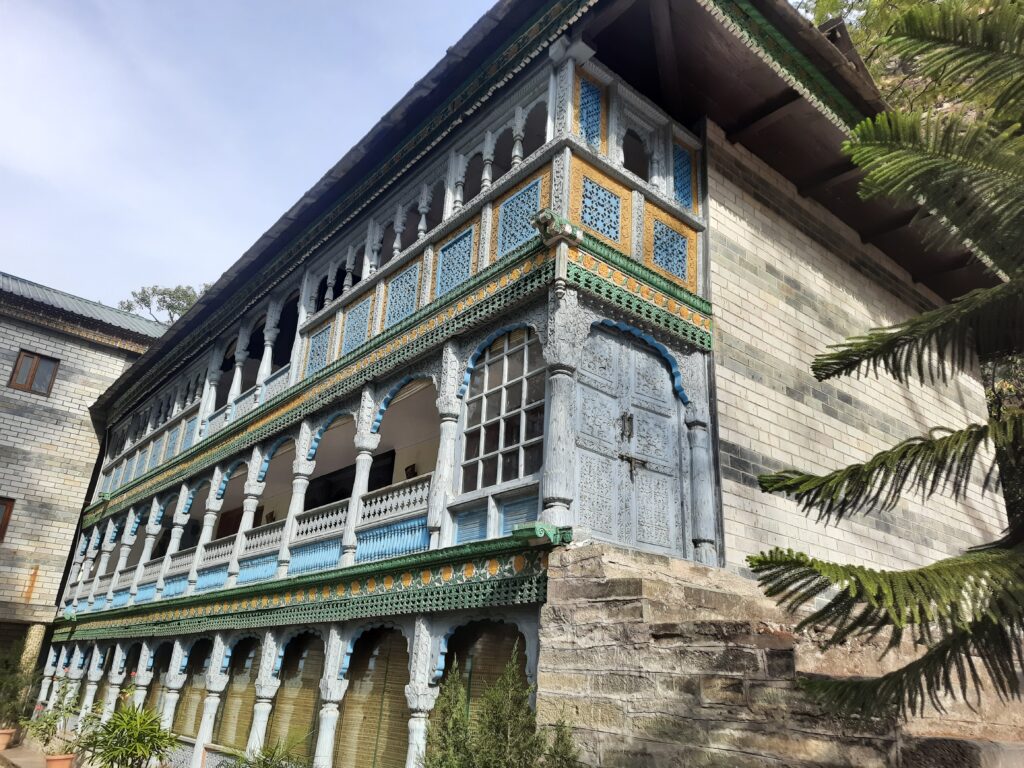 11. Personal Experience:
I visited hotel during my visit to Padam palace and you cannot ignore hotel. First thing you will notice is this huge hotel. I didn't have time for the night stay but it could not stop me for visiting the hotel. So, we decided to dig on some food and trust me guys the food was awesome and it is no doubt best food i had in Rampur town. Also service was very good and food also seems fresh.
I wish we had some time to spend a night and get a feel of the royalty. But next time on my visit to Rampur I wish to spend a night in heritage hotel Nau Nabh, Rampur Bushahr and it is surely on my list.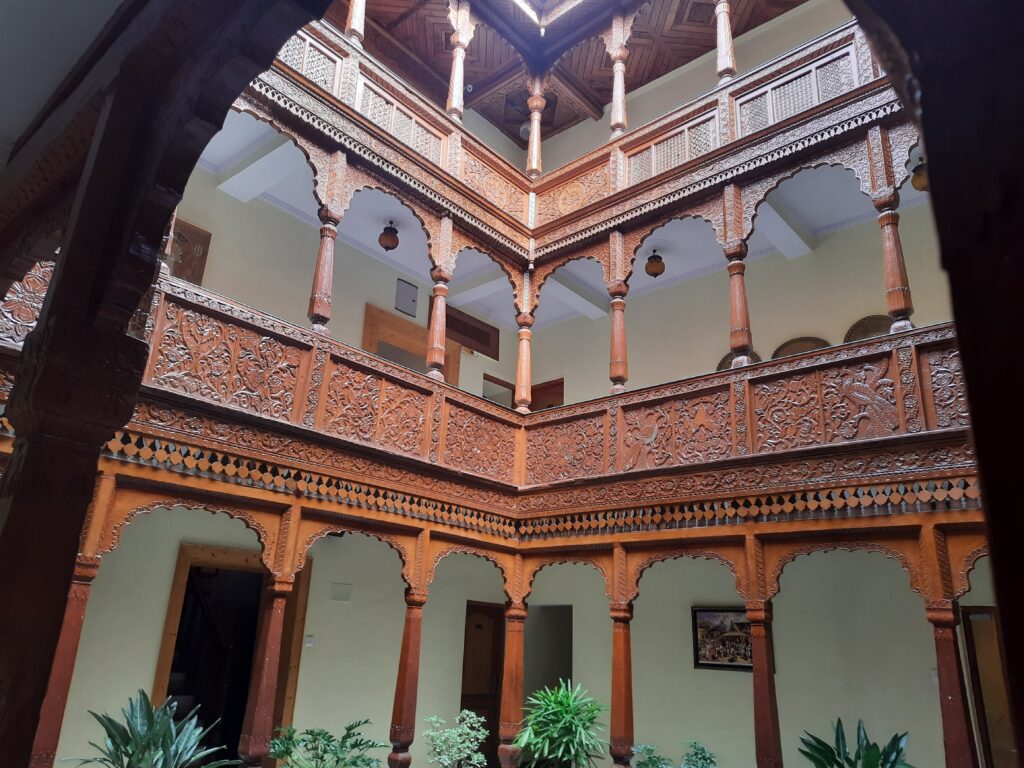 As an architect Planner my star rating to this beautiful heritage hotel will be a four star and I am keeping one star pending for next stay visit to the hotel.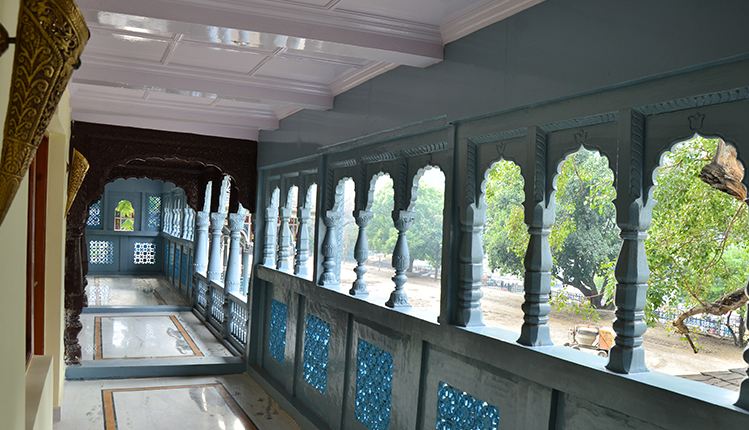 If you liked this review blog: Heritage hotel Nau Nabh, Rampur Bushahr. So please let me know through your comments and please share it with other people who are planning to visit here. Also let me know in comments what is your personal experience if you have also visited or stayed in this gorgeous property. Contact us in case of any queries and also read my previous blogs related to architecture and travel. Be safe and remain indoor during this tough time. Thank you.